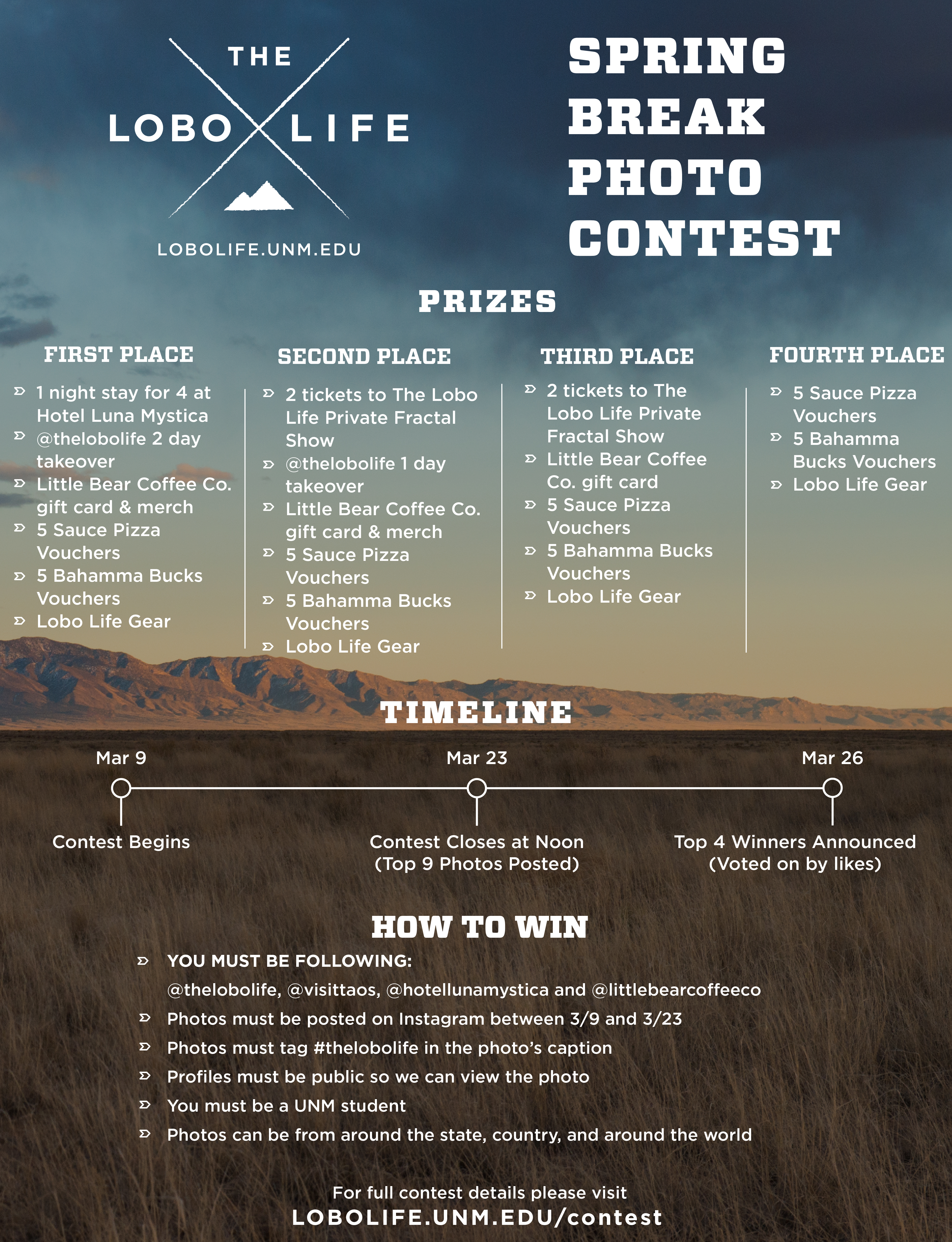 The Lobo Life is excited to announce our third photo contest! Here are the details on how to enter, what you can win and how the winners will be chosen!
How to Enter:
The contest opens Friday, March 9th  and is being held exclusively through our Instagram page (@TheLoboLife). From kick-off to Friday, March 23rd, any photograph posted with the hashtag #thelobolife is entered into the competition, granted they follow the rules below.
After the competition is closed on the 23rd at noon, the judges will choose their top 9 photographs. The judges include Lobo Life founder Josh Lane, previous contest winner Hyunju Blemel, UNM Photography Department Professor (TBD), and University Social Media Coordinator Jordan Scott.
On Friday, March 23rd at 5PM, The Lobo Life will post all 9 of the judges' top picks on our Instagram at the same time, in no particular order. That opens the voting for the winning pictures. Everyone is encouraged to "vote" for their favorite photograph by liking it. You may vote for any or all of the images.
Whichever photos have the most "likes" by Monday, March 26th at noon will be the winners— which means if your photo is chosen in the top 9, you should tell everyone you know to like your photos so you have the best chance of winning prizes!
To be considered photos must be:
You must be following:@thelobolife, @visittaos, @hotellunamystica and @littlebearcoffeeco
Photos must be posted on Instagram between 3/9 and 3/23
Photos must tag #thelobolife in the photo's caption
Profiles must be public so we can view the photo
You must be a UNM student
Photos can be from around the state, the country, and around the world
What we are are looking for:
We want to see where you're spending your Spring Break. From local hangouts to international adventures, this photo contest is open to all Lobos, wherever their Lobo Life has taken them. The judges are looking for images that tell a story, inspire and excite; photos that showcase the very best of being a Lobo. From studying abroad in far off lands and foreign cultures to discovering the Wild West of New Mexico's wilderness, show us what The Lobo Life means to you. Photos can come from smartphones, digital cameras, DSLR's, polaroids, film cameras, or even disposable cameras! We love to see all the different ways Lobo's capture their experiences and will aim to select a wide variety of images, stories, and perspectives in the top 9 photos.
Prizes:
First Place
1 night stay for 4 at Hotel Luna Mystica
@thelobolife 2 day takeover
Little Bear Coffee Co. gift card & merch
5 Sauce Pizza Vouchers
5 Bahamma Bucks Vouchers
Lobo Life Gear
Second Place
2 tickets to The Lobo Life Private Fractal Show
@thelobolife 1 day takeover
Little Bear Coffee Co. gift card & merch
5 Sauce Pizza Vouchers
5 Bahamma Bucks Vouchers
Lobo Life Gear
Third Place
2 tickets to The Lobo Life Private Fractal Show
Little Bear Coffee Co. gift card
5 Sauce Pizza Vouchers
5 Bahamma Bucks Vouchers
Lobo Life Gear
Fourth Place
5 Sauce Pizza Vouchers
5 Bahamma Bucks Vouchers
Lobo Life Gear
Acceptable and Unacceptable practices for students entering: 
You may:
Share as many photos as you want in the timeframe with #thelobolife and all will be considered
Share an image selected in the top 9 across any social platform directing friends to like it/vote for it
Vote for multiple photos in the top 9
You may not:
"purchase" likes on an image selected in the top 9
Promise to give away any prizes won to those who like your photo in the top 9
Exhibit any other unethical behaviors that could skew results, be harmful to others, or serve to alienate anyone
If you are found to be guilty of any of the above as a finalist, your photo may be ruled out of contention