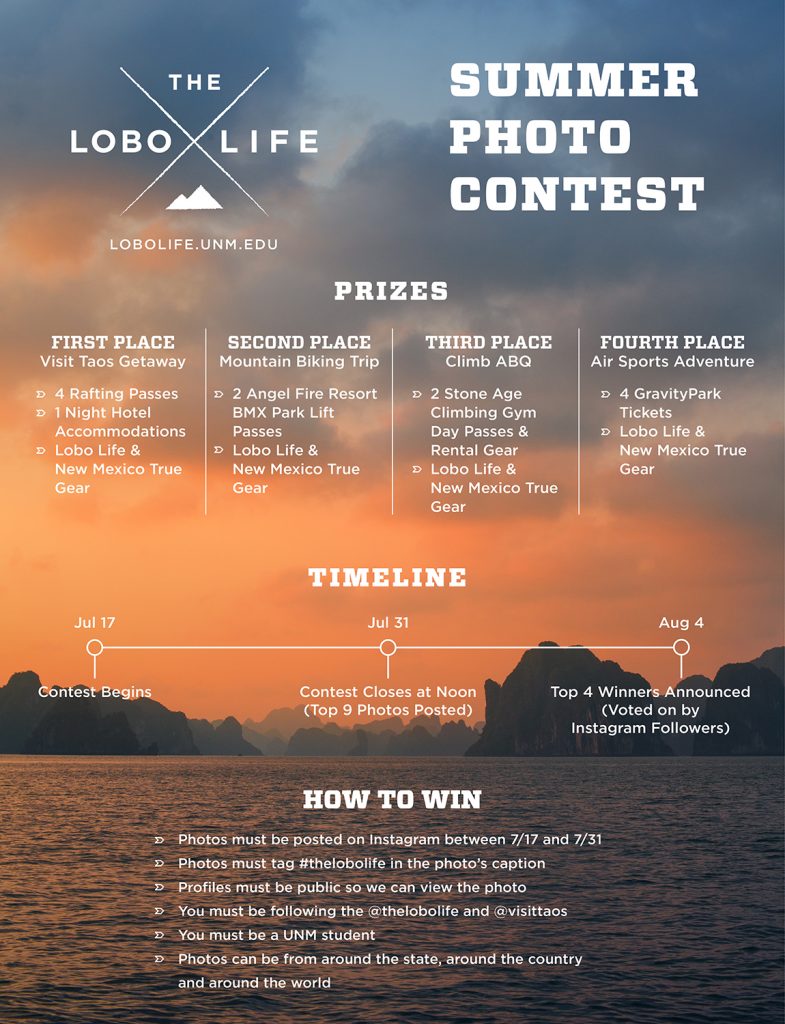 The Lobo Life is excited to announce our second photo contest! Here are the details on how to enter, what you can win and how the winners will be chosen!
How to Enter:
The contest opens Monday, July 17th at midday and is being held exclusively through our Instagram page (@TheLoboLife). From kick-off to Monday, July 31st, any photograph posted with the hashtag #thelobolife is entered into the competition.
After the competition is closed on the 31st, the judges will choose their top 9 photographs. The judges include Lobo Life founder Josh Lane, explorer Sam Katz, previous contest winner Tim Stanley, UNM Photography Department Professor Meggan Gould and Global Education Office Graduate Assistant Andrea Valenzuela.
On Wednesday, August 2nd at 5 p.m., The Lobo Life will post all 9 of the judges' top picks on our Instagram at the same time, in no particular order. That opens the voting for the winning pictures. Everyone is encouraged to "vote" for their favorite photographs by liking them.
Whichever photos have the most "likes" by Friday, August 4th at 5 p.m. will be the winners— which means if your photo is chosen in the top 9, you should tell everyone you know to like your photos so you have the best chance of winning prizes!
To be considered photos must be:
Photos must be posted on Instagram between 7/17 and 7/31
Photos must tag #thelobolife in the photo's caption
Profiles must be public so we can view the photo
You must be following the @thelobolife and @visittaos
You must be a UNM student (that includes incoming freshmen)
Photos can be from around the state, around the country and around the world.
What we are are looking for:
We want to see where being a Lobo takes you. From local hangouts to international adventures, this summer photo contest is open to all Lobos wherever their Lobo Lives have taken them. The judges are looking for images that tell a story, inspire and excite; photos that showcase the very best of being a Lobo. From studying abroad in far off lands and foreign cultures to discovering the Wild West of New Mexico's wilderness, show us what The Lobo Life means to you. Photos can come from smartphones, digital cameras, DSLR's, polaroids, film cameras, or even disposable cameras! We love to see all the different ways Lobo's capture their experiences and will aim to select a wide variety of images, stories, and perspectives in the top 9 photos.
Prizes:
First Place: Visit Taos Getaway
4 Rafting Passes
1 Night Hotel Accommodations
Lobo Life & New Mexico True Gear
Second Place: Mountain Biking Trip
2 Angel Fire Resort BMX Park Lift Passes
Lobo Life & New Mexico True Gear
Third Place: Climb ABQ
2 Stone Age Climbing Gym Day Passes & Rental Gear
Lobo Life & New Mexico True Gear
Fourth Place: Air Sports Adventure
4 GravityPark Tickets
Lobo Life & New Mexico True Gear